On Wednesday, May 17th, a group of 23 Interact members and 18 Rotarians embarked on an exciting field trip to explore Joe Rantz, Boys In the Boat, ASUW Shell House, UW Rowing program, and visit Rotary Seattle-4. On the bus, we engaged with a former UW rowing coach and rower, discovering the dedication and focus required to excel in rowing. This theme resonated throughout the day, shaping our experience.
Our first destination was the UWASU ShellHouse, where Nicole Klein, our gracious host, shared captivating stories about the Shell House, famous boats, and the accomplished teams behind their success.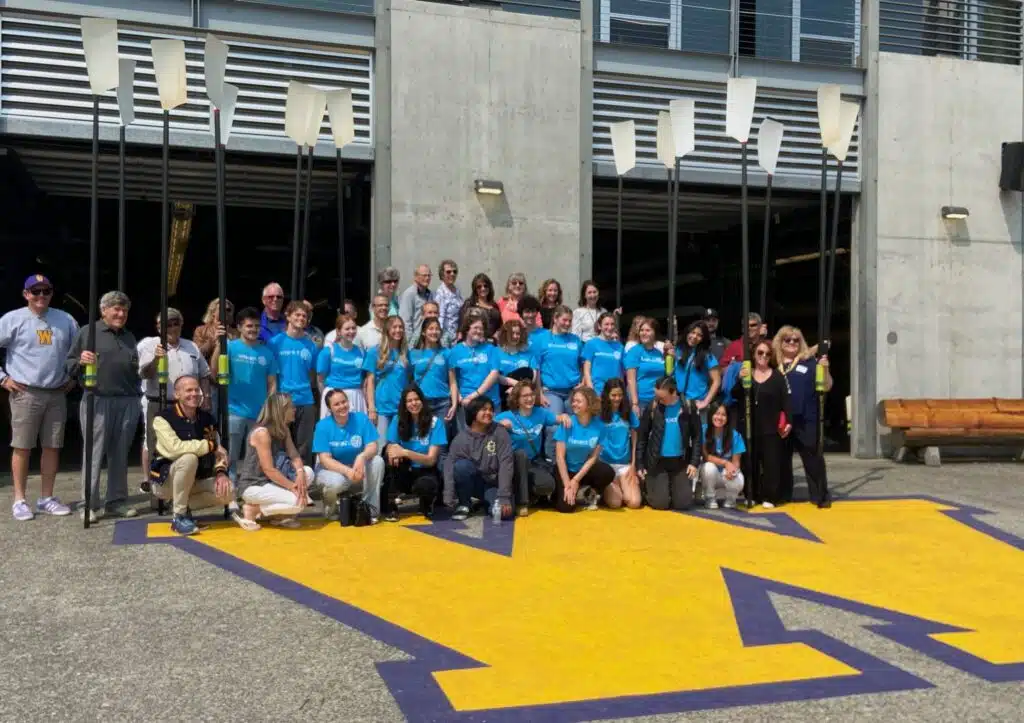 Next, we visited the "new" Coniber ShellHouse, featuring the iconic Husky Clipper hanging from the ceiling. It symbolizes UW's first national championship and Olympic gold: viewed Joe Rantz's 1936 gold medal and other prestigious Olympic medals. The group gained insights from Husky coach Michael Callahan on teamwork and success.
The journey continued onto the Westin Hotel, where we joined the Seattle 4 Rotary Club for a delightful lunch. Engaged with club members, presented our purpose, and shared captivating stories. We discussed the Boys In the Boat premiere and the engaging TIKTOK video. The Windemere Foundation presented Ayden Humphries with a $17,000 donation courtesy of Dollie Sparks and Allen Burnwell from the Sequim Windemere office.
The group captured the camaraderie of the day with a team photo featuring Rotarians, Interactors, and friends from Seattle-4. We embrace the power of collaboration and meaningful connections. On this trip, the Rotarians and Interact Club discovered the dedication of rowers, iconic medals, and the essence of teamwork.